Learn
WILD WALK HALLWAY PATH
Get your kids moving and thinking as they jump, hop and swim their way to complete this path.

This path can be spread out to 150 feet!

There are numerous studies supporting the fact that children who are more active have better attention spans, have faster cognitive processing speeds, and perform better on academic tests than children who are less active.

CUSTOM ADD-ON:

We add your MASCOT to the "

RUN IN A CIRCLE

"

ELEMENT and "

START

" and "

FINISH

" logs.
Mix and Match Option: Look at ALL of our sensory paths and pick out only elements based on your needs. Email Jean@jump2math.ca for your cost based on the square footage of the material.
All our paths can be installed on regular smooth floors, ceramic tiles, low-mid pile carpet, and outdoors! NO PAINT OR STENCILS NEEDED.
Sensory Path Floor Decals set includes:
(1) APPLE TREE PICKER FOR WALL

:

4.3 FT BY 4.3

(1)

W

A

L

K

ON

THE

RA

I

N

B

O

W

:

11 FT




(1) JUMPIN FISH HOP:

12 FT

(9) BUTTERFLIES
(4) HUMMINGBIRDS

(1) ALPHABET HOP:

11 FT




(1) CRAWL LIKE AN ANIMAL:

6 FEET

(4) BREATH IN BREATHE OUT INFINITY WALK:

4.5 FT X 4.5 FT

(2) START AND FINISH LOGS
(1) WALL CAVE WITH CROW

(1) RUN IN A CIRCLE:

5.5 FT

(5) PAIRS OF RUBBER BOOT TRACKS

(FOR APPLE TREE)

(5) PAIRS OF LEAF HANDS

(FOR WALL)

(6) PAIRS OF PEBBLES IN MUD FEET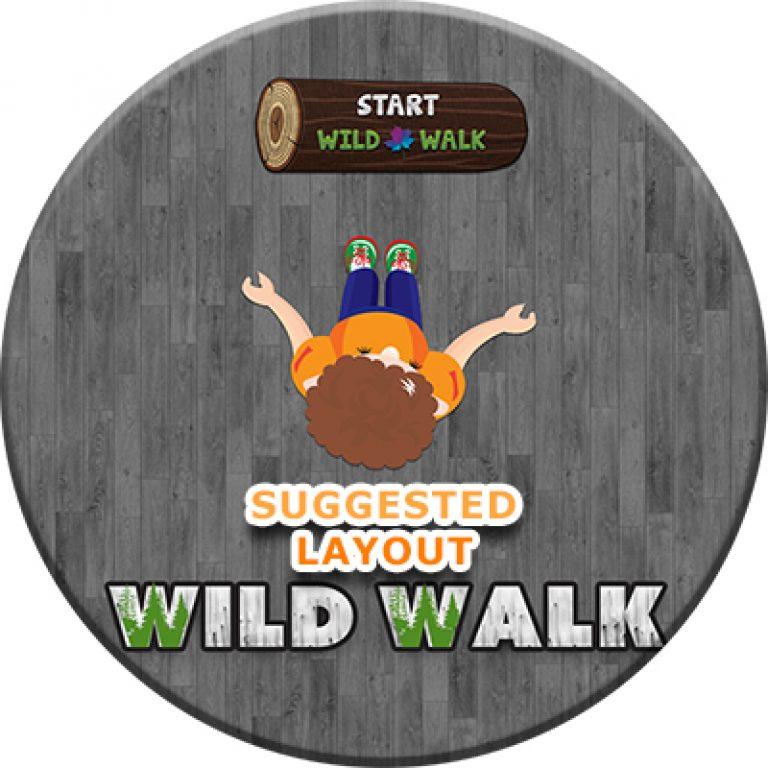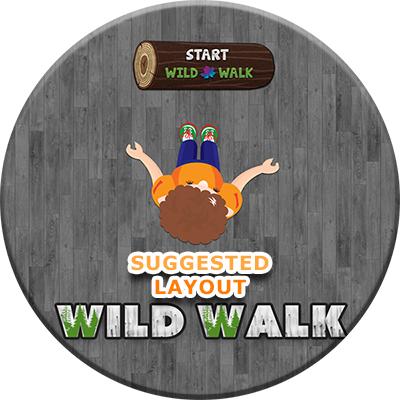 See what this path can look like in your space!
Need Your Path To Last on Carpet?
Want to install Your Wild Walk Outside?
Select "Outdoors" in the drop-down.
Your path will last through Sun, Snow, Rain, and Salt!
How to Install Outdoor Playground Art. from Jump2Math on Vimeo.
HOW LONG WILL MY FLOOR DECALS LAST?
Longevity depends on many factors:
Foot traffic
Cold Climate with snowy winters (salt)
Our standard affordable paths in the worst environments with no protection may last 3-6 months
Ways to protect our standard affordable Decals:
6 – 10 coats of wax (this will have the greatest impact on lifespan and your decals will last years)
Longer lasting (no waxing needed) Carpet Decals:
Schools looking for a longer-lasting product that doesn't require wax and works perfectly on the carpet or non-wax floors should consider this option.
The tough carpet decal with its coarse surface provides excellent traction and is more durable. Cleaning machines (not scrubbers) and vacuums can easily run over them. It will last longer in the same environment as our standard decals.