Learn
Provide clarity and peace of mind for returning students with our
indoor and outdoor custom decals.


Since 2016 we have shipped

thousands of decals

to schools across North America. Our experience and reputation will provide you with confidence in our established quality and durability.
Fast Online Proofs:

Get your proof after checkout. Approve or request any changes that are needed!

STEP 1 SELECT YOUR LANGUAGE

STEP 2 INSTALL LOCATION

STEP 3 METRIC OR IMPERIAL?

STEP4 IF YOU WANT CUSTOMIZATION ON COLOUR/COLOR AND/OR MASCOT PLEASE EMAIL: Jean@jump2math.ca

Free Shipping within Canada and Continental U.S.
This Pack includes:
5x

Social Distance Reminder Mascot Circles (12″)


5x

'Keep 6ft/2m Apart' Mascot Circles (12″)


8x

'Wait Here' Guide lines


10x

A & B Staggered use stickers.


16x

Arrows for Directing Traffic


5x

Mask on reminders


4x

One Way Reminders

10x

Hand Sanitizer Reminder


10x

Wash Hands Reminder


6x

"Wash your Hands" Text Prompt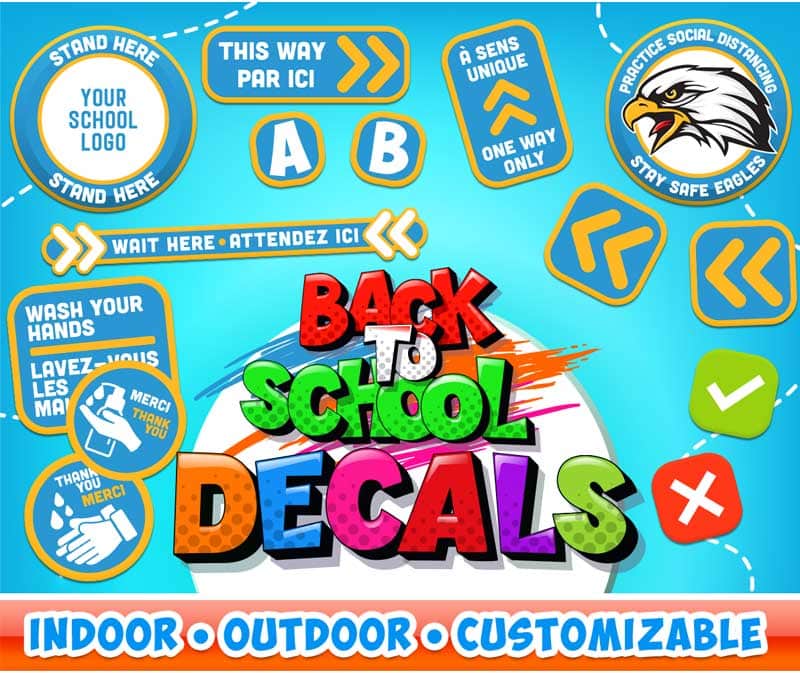 HOW TO INSTALL?
Floor Indoor (SmoothGrip)

Carpet

(Carpet Grip)



Outside

(ToughGrip)

3 Materials – Wide Variety of Surfaces
Smooth Grip = wood, vinyl, laminate, glass, smooth concrete, linoleum, or any smooth and dry surfaces indoors.
Tough Grip = Outdoor surfaces or uneven surface. Asphalt, concrete, tarmac, brick.
Carpet = all carpet applications.
Carpet

(Carpet Grip)
Specifically designed for classroom carpet applications.
Residue-free removal leaves your carpet damage-free.
Anti-slip grit makes them completely safe.
Safety Comes First
Our stickers meet UL 410 anti-slip certification, meaning that the level of slip resistance has been thoroughly tested and classified as safe. The industrial-grade permanent adhesive prevents curling and peeling. We guarantee that our floors stickers are safe to use on any indoor surface.
Made with Eco-Friendly Inks
We only use Greenguard Gold Certified Inks that contain low volatile organic compound emissions and are safe for hospital use. Not only is this ink safe, environmentally-friendly, and long-lasting, but it also produces rich colors and has high fading resistance
Tags: High School Social distancing Decals, Middle school Social distancing Stickers,