Learn
Floor Protractor Door Mat
Our Floor Protractor Door Mat is a super engaging way to reinforce angles. Most school door sizes are 36″ across but other protractors are much less than that. Fortunately, our protractors are truly a GIANT. The custom floor protractor sticks down to vinyl, wood, and carpet and creates an engaging and exciting feature. This exclusive product helps bring measuring angles to life in an exciting way for EVERYONE.
Protractor Styles
Kiwi
Orange
R
a
i
n
b
o
w
Space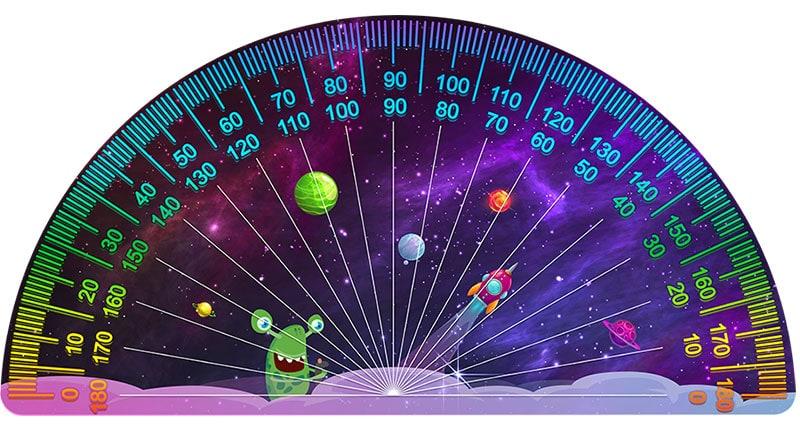 Printing out a Floor Protractor from Jump2Math on Vimeo.
HOW TO INSTALL
Floor decals
Thoroughly clean the floor area chosen for the floor decals
Place your protractor on the floor under a door with the center lined up to the hinge
Starting at one end of the decal ensuring air bubbles are not trapped, peel the backing of the decals and slowly press onto the floor.
Use a soft cloth or any nonmarring/scratching material to smooth out any wrinkles.
Only floor wax is recommended for use on our protractors for permanent installations. Floor "seal, finish or coating" may contain chemicals that might damage your path. If one must be used, we can send you a sample for testing purposes.
If you choose our carpet version, peel and stick. (low – medium pile) It is removable and can be stored on a heavy-duty sheet of plastic or heavy-duty contractors garbage bags if the carpet needs to be steam cleaned.
Our carpet version protractor can also be installed on indoor smooth, hard floor surfaces that ARE NOT MEANT TO BE waxed. It provides a tougher and longer-lasting option than our standard adhesive decals.
See the most durable, waterproof, carpet decal in action:
HOW LONG WILL MY FLOOR DECALS LAST?
Longevity depends on many factors:
Foot traffic
Cold Climate with snowy winters (salt)
Our standard affordable paths in the worst environments with no protection may last 3-6 months
Ways to protect our standard affordable Decals:
4 – 6 coats of wax (this will have the greatest impact on lifespan and your decals will last years)
Longer lasting (no waxing needed) Carpet Decals:
Schools looking for a longer-lasting product that doesn't require wax and works perfect on the carpet or non-wax floors should consider this option.
The tough carpet decal with its coarse surface provides excellent traction and is more durable. Cleaning machines (not scrubbers) and vacuums can easily run over them. It will last longer in the same environment as our standard decals.