Learn
We know kids can be tough on classroom manipulatives so we made them tougher!
NOTE: THESE TOOLS WILL LAST 3+ YEARS MINIMUM IN YOUR CLASSROOM. Ultra-durable/Waterproof/Tearproof/
Product Breakdown
Each DeskMATE comprises 2 pieces: Desktop

Guide

&

Animal Graphic
Desktop Guide
Ruler – labeled in CM and INCH – measure objects around the class – incorporate simple math.
Alphabet – trace lines for fine motor skill development.
4 Zones of Regulation – evidence-based "feeling zones" used as an emotional/behavioral guidance tool.
Dry Erase Nameplate – Students become an "official" park ranger for…
Alphabetized Animal Pals – fun animals that match their names with the corresponding alphabet below – mnemonic tool.
Durable & Cleanable – safe cleaning with alcohol, soapy water, or any other district-approved cleaner
Animal Graphic
Words of Inspiration – each animal contains a unique short saying that empowers by instilling positive behaviors and confidence.
Unique Animal – found from different habitats around the world – students can choose who to represent and identify with.
Promotes Psychological Well-Being – adds color – familiar/natural scenery boosts moods – our environments can raise or lower our stress levels!
Waterproof and Tear-Resistant. Deskmates can be taken outdoors for your outdoor classroom!
Zero Footprint – Takes up no extra classroom wall or floor space
We really want to help make this transition back to school to be a positive and engaging experience for all children and teachers. Thank you to all the teachers whos collective feedback made this product possible.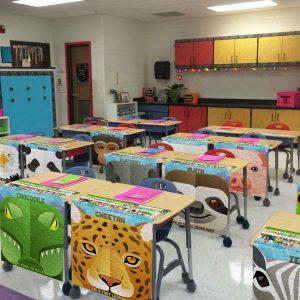 More Ideas
Reward positive behavior with your own system like GBG Good Behavior Game.
Quick and easy messages of encouragement right on their very own personal

desk.

Motivate students to pursue a variety of goals, from homework to good behavior, sticker badges, dry erase area to personalize with name, numbers or anything you want!
Customize your

DeskMATES

with your own behavior management/character system. PBIS, Virtues, or the Pillars of Character in any areas with dry-erase or permanent markers.
Technical information
DeskMATES are made from 2 pieces:
1. A vinyl front graphic 24″ x 25″ (Hangs freely)
2. An adhesive decal Desktop Helper 24″ x 7″
Installation in 3 easy steps; instructions will be included with every order.
The Desktop Helper holds the vinyl graphic at the front of the desk. (About 1.5″ overlap)
The Desktop Helper is dry-erase and contains various teaching tools.